It was a touching moment at last night's school board meeting when one walked in and saw the tribute to Louisa-Muscatine School Board Vice President, Pam Lee. There wasn't a dry eye in the room when President Scott Wilson read the heartfelt words he wrote in Pam's honor. We are fortunate to have such caring school board members- past and present.
Mr. Wilson's message: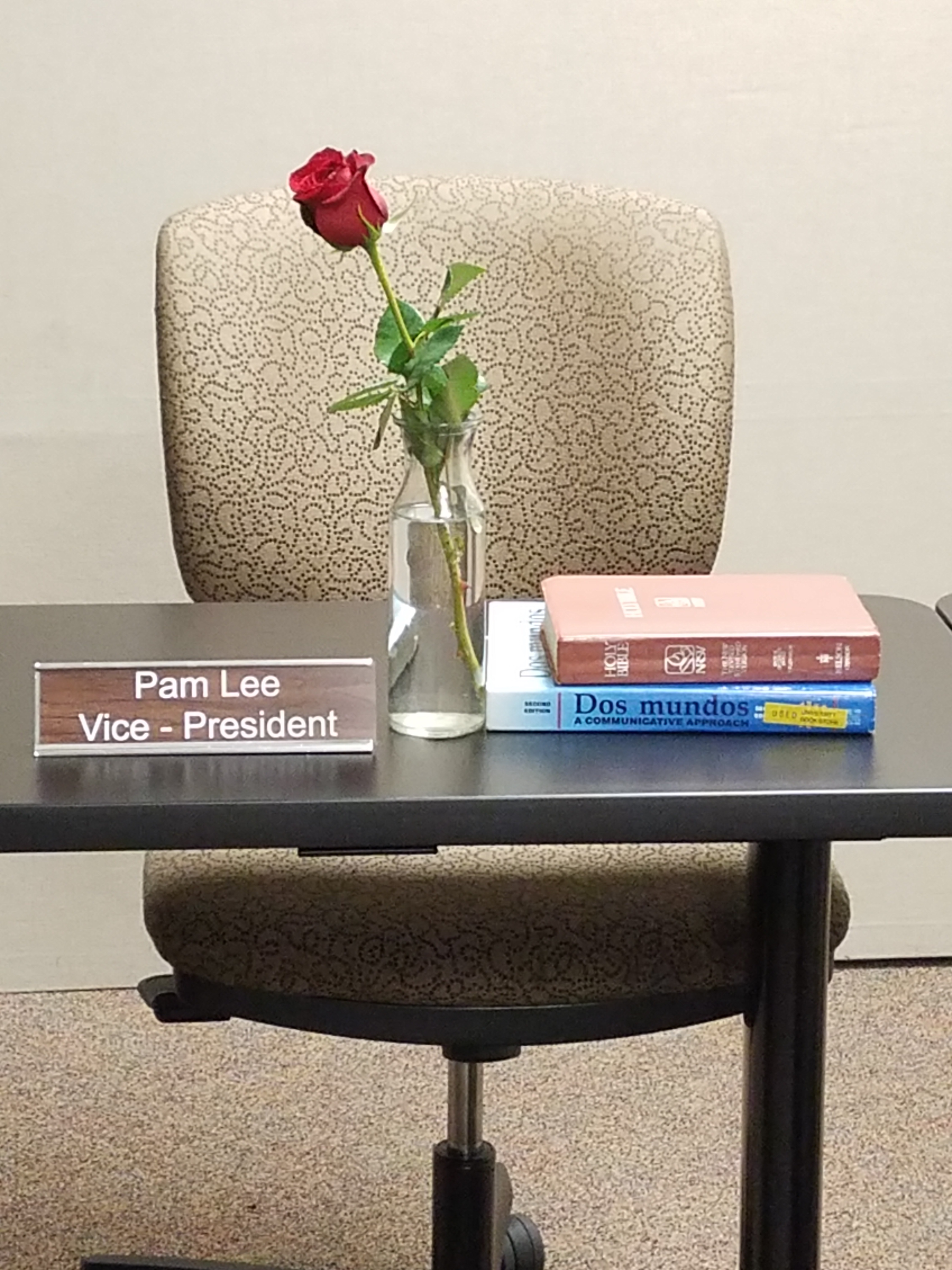 Today we recognize that one of our seats at the table is empty. The passing of Pam Lee will also leave an empty spot in our hearts, but the mission to ensure kids have access to a quality education remains. It is our task as a board to continue Pam's mission.
Three items now take Pam's place to represent the person that she was.
A rose, a Bible, and a Spanish textbook.
The rose represents Gentleness. Pam's personality and charm are legendary. However, just like a rose, she knew when to use her thorns to challenge others and to make them a better person. Just like the softness of a rose petal, Pam was known for being soft spoken. Her ability to draw you in and feeling comfortable during a conversation was uncanny. She went out of her way to make sure people felt appreciated and gave a sense of belonging.
The Bible represents the faith that Pam had. She believed that God had a plan for her life and that every event, good or bad, was an opportunity to share the love of God. From her adoption to her bout with cancer, she believed every day in her life was planned by God.
The Spanish textbook represents Pam belief that education is key to success. Pam was a school teacher of Spanish for 20+ years. She wanted kids to become excited about learning. Learning is not just ingesting the knowledge given by teachers. She wanted kids find a passion and become excited about learning everything about it.
While Pam's memory will eventually fade through time, let us not forget the attributes that she possessed. Gentleness, faith, education. If we incorporate these attributes in our lives and pass them on, we pass a piece of Pam on. Thank you Pam Lee for your service.